Secretary / سكرتارية
Full Time
Applications have closed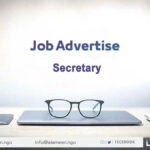 Website Alameen
For Humanitarian Support
The last date for submission: 28/05/2023
Roles and responsibilities:
Receiving visitors, directing them, and providing them with the necessary support.
Answering incoming calls and transferring them to the appropriate office.
Manage e-mail and paper correspondence and distribute them to the appropriate departments.
Managing the schedule of appointments and meetings, setting dates for meetings, and preparing the required papers for them.
Providing secretarial support to the management team by preparing reports, documents, and necessary documents.
Organizing and managing travel arrangements for guests.
Manage information and documents and store them securely.
Participation in the activities of the organization and its coordination and organization.
qualifications and experience:
University/institute certificate
Previous work experience in the field of reception for not less than two years
Good experience working on office programs
Arabic language at an excellent level
Good English
Good Turkish language
Work experience in a non-profit organization or association is preferred.
Excellent interpersonal and verbal communication skills.
High skills in organization, professionalism, and flexibility
Ability to prioritize tasks in a fast-paced work environment.
Able to work effectively as part of a team or independently