MEDICAL DOCTOR SUPERVISOR
Full Time
Applications have closed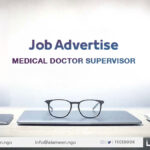 Website Alameen
For humanitarian assistance
Médecins Sans Frontières (MSF) is an international, independent, medical humanitarian organization that delivers
emergency aid to people affected by armed conflict, epidemics, natural disasters and exclusion from healthcare. MSF
offers assistance to people based on need, irrespective of race, religion, gender or political affiliation.
Requirements for the position
Education:
• Essential diploma in MD
• Specialization in Gynecology or pediatric care desirable
Experience:
• Minimum 2 years' clinical experience in a role as MD
• Work experience with MSF or other NGOs in developing countries is desirable.
• At least 1 year experience as MD supervisor
• Work experience in, in public health, obstetric or gynecology, pediatrics , ER medicine, ,
general medicine or surgery is desirable
Languages:
• Arabic and English languages are essential
• Others: Essential computer literacy (word, excel and internet)
Main responsibilities
Place of work: NAP project's catchment area, Al Salmah Azaz
Level: 10
Main objectives
Support the work organization of the doctors, supervises the treatments and care to the patients,
in the service and ensure their quality. Collaborates in the concept and development of the project
form a medical point of view.
Main responsibilities
• Ensures the quality of the treatments and care in the service, identify the areas for
improvement and, together with the Medical focal points , the optimal way to address
them.
• Act as focal point among the different actors in the center and particularly in the service,
for all medical matters.
• Ensures a right transfer of information within his/her domain and his responsibilities,
towards the colleagues, doctors, nurses, midwives, and all managers.
• In cases of specialized services, like Maternity , neonates,or ER , support in organization
of sorting system and of the adequate functioning of the ER room or the delivery room in
collaboration with the nursing team or the midwifery/ midwife supervisor in the service
• Follow up the activities and the supports services in order to improve their quality.
• Monitor and assists partner doctors work in supported health facilities and mobile clinics
in the project by: performing trainings, participate in field supervisions visits, and ensuring
the implementation of MSF protocols, identifying gaps, assessing needs and facilitating
relationship between partners proper conservation of medical items, checking data
collection and analysis.
• Plan and conduct tools that evaluate quality of care; such as prescription audit, Antibiotics
Stewardship, case reviews with MSF supervisors with partner staff, file reviews,
prescriptions audits, morbidity and mortality reviews. etc
• Participate actively on the follow up of Comsumption and donation analyze , and give
feedback regurarly to the doctors in supported facilities
• Participate in the collection and analysis of epidemiological data, checking its validity and
informing the line manager or project coordinator about any incident or medical error and
monitors the proper functioning of the activity
Replies will only be sent to short-listed candidates. Closing date: 26th of January 2023
Incomplete applications (no cv attached, no professional certificate attached) and sharing false information will
lead to automatic disqualification